---
کد کالا : AH Series
ساخت : 0
گارانتی : 0
اصالت کالا : 0
Stand Alone Type Humidifier
Easy Installation
Precise Control / Auto Draining
ON/OFF, Proportional Control
Safety, Reliability
Various Capacity
AH Series products are stand-alone electrode type humidifiers that are designed as the control box integrated structure for user convenience. They can be easily installed on air conditioning units that are not equipped with humidifiers or in places where humidifiers are needed. The humidity sensor attached to the unit allows automatic operation by utilizing the external relative signal or humidity valve. The products consist of the standard type products with the capacity of 2.0kg/h ~ 90kg/h and non-standard products with the capacity of 91 kg/h ~ 360kg/h.
Easy and convenient manipulation of display
Controller's display includes menu selection, compelled drainage, setting, operation, alarming breaker and etc, and can be operated easily by any user.
Precise control
Micro Processor enables the precise control of the humidifier to the maximum efficiency, and energy saving.
Drainage pump mounted
Drainage pump mounted prevents foreign materials' piling-up inside the cylinder, and free drainage can be done wherever the cylinder is positioned.
Security and reliability
Security-and-reliability based design has passed through the stringent security standard of Europe to obtain CE mark.
Auto washing
Automatic washing system prevents accumulation of foreign matters inside the cylinder that may be caused by long time operation, and clean conditions can be maintained.
Cylinder structured for easy mounting/demounting
Cylinder has the structure that can be dismantled, and thus there is little trouble with its cleaning which allows its durability extended.
Applications
Offices
Printing
Food processing
Computer rooms and Telephone exchanges
Photography
Projection room (Theater)
High Tech chip Manufacturing
Wood working
Museums
Bakery and blast freezing
Various Capacity

Model Code Classification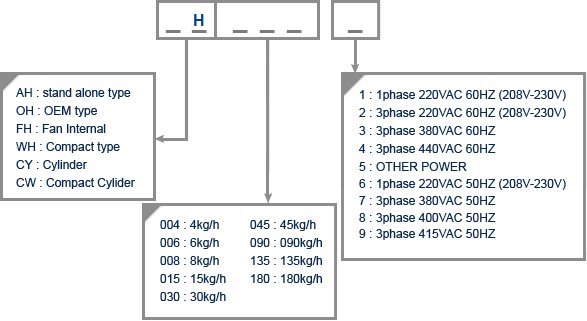 Specification
MODEL(AH###_#)

004-1(6)

004-2(5)

006-1(6)

008-2(5)

015-2(5)

030-2(5)

060-2(5)

Maximum Capacity

[kg/h]

4

4

6

8

15

30

60

Mian Voltage

[V~]

220-230

Phase/Wire

1/2

3/3

1/2

3/3

3/3

3/6

3/6

Power Consumption

[kw]

3

3

4.5

6

11.3

22.5

45

Rated current

[A]

13.6

7.9

20.5

15.7

29.6

59

118

Over Current[140%]

[A]

19.1

11

28.6

22

41.3

82.7

165

Cylinder/Nozzle

[ea]

1

1

1

1

1

1

2

Steam hose

ID[mm]

22

22

22

22

30

45

45

Condense hose

ID[mm]

9.5

Width

[mm]

380

380

380

380

440

550

920

Depth

[mm]

260

260

260

260

320

375

375

Height

[mm]

610

610

610

610

710

890

890

Weight

[kg]

14

14

14

14

25

40

67

Weight in operation

[kg]

17

17

19

19

36

59

105

Water pipe spec

[inch]

OD¼, 6.325(mm)/Non-Standard Option : 15A Socket, 5K 15A FLANGE

Drainpipe spec

[mm]

Heat-resisting hose, ID 22, / Non-Standard Option : 5K 25A, 5K 40A

Water Supply

[kPa]

200-800, 2~8[bar]

Draining flux

[l/min]

7.5

* Rated-current and over-current(140%) values can be change by each voltage setting
MODEL(AH###_#)

004-3(7)

008-3(7)

015-3(7)

045-3(7)

090-3(7)

035-3(7)

180-3(7)

Maximum Capacity

[kg/h]

4

8

15

45

90

135

180

Mian Voltage

[V~]

380-480

Phase/Wire

3/3

3/3

3/3

3/6

3/6

3/6

3/6

Power Consumption

[kw]

3

6

11.3

33.8

67.5

101.3

135

Rated current

[A]

4.6

9.1

17.1

51.3

103

153.8

205

Over Current[140%]

[A]

6.4

12.8

23.9

71.8

144

215.4

287

Cylinder/Nozzle

[ea]

1

1

1

1

2

3

4

Steam hose

ID[mm]

22

22

30

45

45

45

45

Condense hose

ID[mm]

9.5

Width

[mm]

380

380

440

550

920

1500

1100

Depth

[mm]

260

260

320

375

375

520

620

Height

[mm]

610

610

710

890

890

1260

2060

Weight

[kg]

14

14

625

40

67

158

316

Weight in operation

[kg]

17

19

36

59

105

216

358

Water pipe spec

[inch]

OD¼, 6.325(mm)/Non-Standard Option : 15A Socket, 5K 15A FLANGE

Drainpipe spec

[mm]

Heat-resisting hose, ID 22, / Non-Standard Option : 5K 25A, 5K 40A

Water Supply

[kPa]

200-800, 2~8[bar]

Draining flux

[l/min]

7.5

* Rated-current and over-current(140%) values can be change by each voltage setting
---